A Straight Married Alpha Discovers Faggot Worship!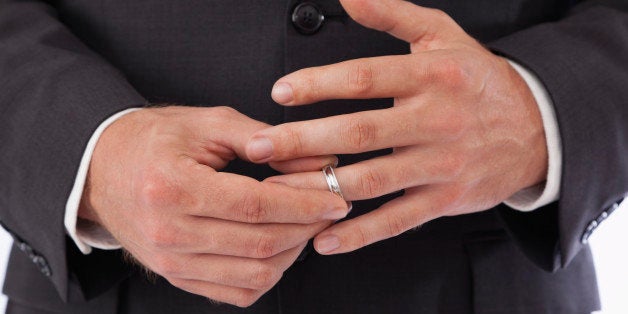 In some respects, straight married Alphas are the most frustrated Men on Earth. These great Men, due to circumstance or rushed decision-making, find themselves trapped in marriages to females that cannot or will not satisfy their powerful needs. Alphas are born to be hunters, to be conquerors. They are born to lead and born to breed. These Men are gods born to be worshiped. Marriage is antithetical to everything an Alpha truly needs. 
What is the answer to this problem? FAGGOTS.
Time and again, straight Alpha Males take a chance and use a faggot to relieve their sexual needs, and suddenly discover a whole new world of absolute worship. They find out that faggots are insatiable slaves born to serve cock, eager to do whatever they can do to please their Owner.
Suddenly, sex with the wife seems like a distant and insignificant concern.
Today I received a long series of messages from a straight married Alpha I will call Stan. I will just reproduce his breathless messages here since he does a great job telling his own experience:
Hello faggot. I have just been scrolling through your blog and you are so fucking right!!! Yesterday night I used my first faggot and it was so stunning!!! I would have never thought that guys like this exist!
I'm 38 years old, I've been married for five years and I have two little kids. My wife's never been much of a sex fan and she never ever sucked my cock. It's frustrating.  I love her, but she doesn't even want me to watch porn or jack off. She doesn't understand I have my needs.
Last week I talked about it with a friend. I complained about her and that I don't know what the fuck to do. He suggested I look for a gay boy to get me off. I was taken aback first. Wait! A boy? I'm not gay! He laughed and said it didn't have anything to do with being gay or not. A man needs a hole to get off and boys have two holes and he had made the experience, that some gay boys are very keen to take a man's dick. 

So my wife decided to visit her parents over the weekend. She and the kids. My friend suggested we go to a gay bar and see if we can find some gay boys. So we go there and have a drink and this boy shows up, that my friend has fucked a few times and they disappear, leaving me alone. I felt some guys look at me. I'm attractive, tall, slim). 
Then a guy approached me. He asked if I would invite him for a drink and I did. This guy very quickly brought up what I was thinking. He asked if I wanted a blowjob or maybe more. He was cute. Really cute. And very charming. He asked if I was single and I told him about my wife and kids. So he asked if I wanted a blowjob or maybe more and I said, yeah, maybe more, but I never had sex with a guy and he smiled and said it was the same then with women. Just stick it in! He asked if I had a place where we could go and I said, yeah, I have a house and my wife isn't there for the weekend. He asked if I could get him another drink. I asked, if he shouldn't invite me for a drink, I had already paid him. He smiled and said that he would, but unfortunately, he didn't have any money with him. And actually, he needed a place to stay for the night. So if he could stay with me, he would let me use him sexually however I liked. Well, he was handsome, charming and well dressed, so I agreed and took him home.

As soon as we were inside he dropped to his knees and opened my pants!! He got my cock out and gently took it into his mouth! OMG!!! No woman ever had made love to my cock like he did!  I was still in my jacket and I told him to stop and let me take my shoes and jacket off first. He stopped and started to open my shoes, and took them off my feet. I took off my jacket – I was already sweating – and let him into the living room. I dropped onto the sofa and he again dropped down at my feet. He gently pulled off my pants and then he got to work on my cock again. I came after only 5 minutes!  I came into his mouth and he swallowed it all!

He then said 'I'm sure I can get out more of your balls, Sir ' and he got to work my balls and cock again! This time I lasted longer and I got up and held his head and I fucked his throat, imaging it was my wife's throat. He was still in his clothing and after I had cum the second time I told him to get naked. I wanted to see his body. 
Then came the next surprise. He undressed really slowly and he didn't wear underwear. Instead, he was wearing a chastity device (I didn't know it was then – he explained it to me).  So he explained he was owned by his husband, but his husband is having a boyfriend and he wants him to live with them. He hates the boyfriend and ran away from home. Honestly? It instantly made me hard again! He said it would make him very horny. Hungry for cock in his ass.   

And I tell him to show me his ass. And he turns around and spreads his cheeks and I'm rock hard within a second!  I tell him to go on his fours and I get over him, spit on my rock hard tool and shove it in!  And then I fucked him like I have never fucked anyone before!  If I would fuck my wife like this she would accuse me of rape. Never. You can't do this to a woman. I'm sure I hurt him, I have a big dick. My wife always complains. But he didn't. He just moaned.  
So I fucked the hell out of him and I came right into his ass. It was too late to pull out. After I had pulled out he turned around and to my surprise he took my cock back into his mouth and sucked it clean!!! OMG! Imagine I would ask my wife to do that! 
He stayed the night with me and in fact he is still here and I fucked him so many times that both his holes are sore. He still doesn't complain!  I feel a little sorry for him. He can stay another night, but tomorrow my wife will be back.  Well at least I'm going to have him for another night. It's a pity he's married to such an asshole. I would love to have him around!
Oh and he introduced me to your blog. To make me understand my role and his.  
Unbelievable!!
First of all, I'd like to thank Sir @whycantigetthenameiwant for creating an account and getting in touch with me about this awesome experience!
I'd also like to congratulate my nameless faggot brother/reader who completely fulfilled his purpose in serving this amazing straight Alpha and introducing him to the wonders of true worship! You did good!!
More than anything, this experience underscores the perfection of the Hierarchy and what happens when a dominant Alpha Male meets a truly submissive faggot. When both understand their roles properly, both experience an indescribable fulfillment.
It is magic.
Hierarchy Is Truth!